Regular price
€169,00 EUR
Regular price
Sale price
€169,00 EUR
Unit price
per
Sale
Sold out
SKU:1116700
Item number: 1116700
-----------------------
DreamWear nasal mask including exhalation valve, headband and 4 mask cushions
Scope of delivery (fit pack)
4 x mask cushion sizes (S,M,L,MW)
1 x Medium Size Frame (M)
1 x Headband
1 x Exhalation Valve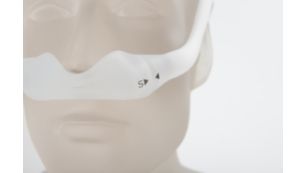 Mask cushion under the nose
The mask cushion sits comfortably under the nose, so that there are no pressure points on the bridge of the nose and unpleasant skin irritation on the nostrils is prevented.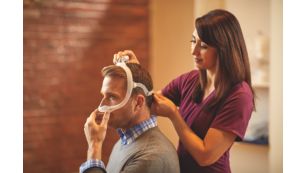 Stability all night long
The innovatively designed DreamWear 1.5 headband with side straps provides additional stability while sleeping and thus prevents slipping. The side arms of the headgear perform the same function as the arms of glasses and help minimize movement of the mask and headgear during use. And that can be proven concretely. 85% of DreamWear gel cushion mask users1 and 88% of DreamWear nasal mask users2 found our masks to be more stable with the revised headgear than with the original headgear.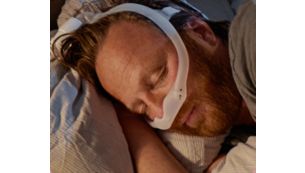 For a completely natural sleeping experience
DreamWear combines the advantages of minimal contact masks and nasal masks, offers a high level of comfort and can contribute to successful sleep therapy.
Hose connection on top of the head
The exhaled air is not discharged directly through the nose, but rather at the top of the head. This tube position allows greater freedom of movement while sleeping. Users report that instead of being forced to sleep in a specific position, DreamWear allows them to have greater freedom of movement.*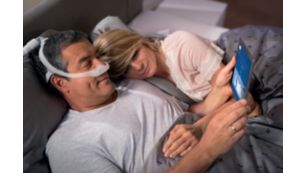 Reading or watching TV without restrictions
Thanks to the open design, DreamWear offers an extremely wide field of vision, so you can easily wear glasses and read, watch TV or use a tablet in bed before going to sleep.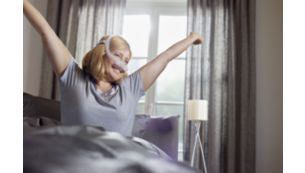 Soft, flexible mask frame
The flexible material through which the air flows lies gently on the skin, avoiding pressure points and ensuring a comfortable fit.
Additional Notes/Additional Information:
Please note that this item is a hygiene product. In principle, an exchange is only possible if the packaging is unopened and undamaged. / Please note that this is a hygienic article. As such, returns are only accepted for articles with unopened packaging.
When purchasing from outside the EU, please note that additional import customs duties may apply in your home country. / Please note that additional costs for importing into your home country can occur when purchasing from outside the EU zone.
View full details
OUR OFFER
Safe delivery

manufacturer warranty

Made in Germany

Secure payment

Easy payment in installments or purchase on account